Back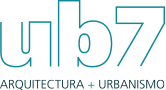 Batimat, Stand Sika.
Location: La Rural. Buenos Aires Exhibition Centre
Date: April 2010.
An experimental construction. A trident to bring a new meaning to the Combination Mark and to colonize space. A way to capture the looks. A vibrant, fully loaded chromatic data.
A walkable experience set up right in the heart of the exhibition.

Third prize winning project
Program and surface:
9m by 10 mt Stand
Customer assistance desk, product displays, and storage areas.